In a press release sent just now, Sony has announced a slew of new Ps4 peripherals. which includes the slightly revamped DualShock 4 that's available in the PS4 Slim that we reported on last month. The other peripherals listed are a new PlayStation Camera, new Vertical Stand, and a new Platinum Headset.
Official specs and details from the press release can be seen below.
New Wireless Controller for PlayStation®4 (CUH-ZCT2 series)
The new Wireless Controller for PS4 (DUALSHOCK®4) allows the light from the light bar to emit on the touch pad, making a new luminous line in the same color as that of the light bar.  This provides gamers with visual information, such as which character they control or health status, at a glance for more intuitive gameplay.  Furthermore, the new DUALSHOCK®4 supports USB communication*3in addition to the currently available Bluethooth® communication, allowing users to have control also via cable.  The new DUALSHOCK®4 wireless controller will be available at a manufacturer's suggested retail price (MSRP) of 5,980 yen, $59 USD, €59 and £54*4. 
< Wireless Controller for PlayStation®4 (DUALSHOCK®4)>

Product name

Wireless Controller (DUALSHOCK®4)

Color

Jet Black

Product code

CUH-ZCT2 series

MSRP

JP 5,980yen (excluding tax), US$59, EU€59 and £54*4

External Dimensions

Approx.161mm x 57mm x 100mm (width x height x depth)

 (excludes largest projection)

Weight

Approx.210g

Keys / Switches

PS button, SHARE button, OPTIONS button, Directional buttons (Up/Down/Left/Right), Action buttons (Triangle, Circle, Cross, Square), R1/L1/R2/L2 buttons, Left stick / L3 button, Right stick / R3 button, Touch Pad Button

Touch Pad

2 Point Touch Pad, Click Mechanism, Capacitive Type

Motion Sensor

Six-axis motion sensing system (three-axis gyroscope, three-axis accelerometer)

Other Features

Light Bar, Vibration, Built-in Mono Speaker

Ports

USB (Micro B), Extension Port, Stereo Headset Jack

Communication Specifications

Bluetooth® v2.1+EDR

USB HID Class, USB Audio Class

Battery

Type

Built-in Lithium-ion Rechargeable Battery

Voltage

DC3.65V

Capacity

1000mAh
New PlayStation®Camera (CUH-ZEY2)
The redesigned PlayStation®Camera (PS Camera)*3 inherits all the features available on the current model, including PlayStation VR (PS VR) support*5, and features a new compact cylindrical form.  PS Camera includes a stand allowing users to easily adjust the angle of the PS Camera and set it up in their preferred location, such as on top of their TV or entertainment center. The new PS Camera will be available at a MSRP of 5,980 yen, $59 USD, €59 and £54*4.
<PlayStation® Camera >

Product name

PlayStation®Camera

Product code

CUH-ZEY2

MSRP

JP 5,980yen (excluding tax), US$59, EU€59 and £54*4

External Dimensions

Without Stand: Approx. 159mm x 28mm x 28mm

(width x height x depth)

Weight

Without Stand: Approx.152g

Video Pixel

 (Maximum) 1280 x 800 pixel x 2

Video Frame Rate

1280×800 pixel @ 60fps,

640×400 pixel @ 120fps,

320×192 pixel @ 240fps

Video Format

RAW, YUV (uncompressed)

Lens

Dual Lenses, F value/F2.0 fixed focus

Capture Range

30cm~∞

Field-of-View

85°

Microphone

4 Channel Microphone Array

Connection Type

PS4 dedicated connector (AUX connector)

Cable Length

Approx. 2m

Included

PlayStation®Camera x1

Stand x 1
Vertical Stand (CUH-ZST2)
The vertical stand is specifically designed for the new slimmer PS4 and PS4 Pro*6.  To bring out the best of both system designs, the stand was made with translucent material to resemble the "shadow" of the system when set vertically.  Two different attachments are bundled so users can mount either the slimmer PS4 or PS4 Pro with ease. The new vertical stand will be available at a MSRP of 2,280 yen, $24 USD, €19 and £16*4.
<Vertical Stand >

Product name

Vertical Stand

Product code

CUH-ZST2

MSRP

JP 2,280yen (excluding Tax), US$24, EU€19 and £16*4

External dimensions

Approx. 295mm x 9.5mm x 116mm (width x height x depth)

Weight

Approx. 129g

Supports

CUH-2000 series, CUH-7000 series

Included

Vertical Stand for PlayStation®4×1

Attachment( CUH-2000 series) x 1

Attachment(CUH-7000 series) x 1

Mounting screw x 1
Platinum Wireless Headset
The Platinum Wireless Headset, which will be available at a MSRP of 18,000 yen, $159 USD, €179 and £129*4, is a high-end gaming headset that makes games on PS4 come alive with rich and immersive audio. The headset boasts premium construction and materials for extra comfort, as well as enhanced highly positional 7.1 virtual surround sound powered by SIE's proprietary 3D audio technology. Select PS4 games supporting 3D audio for the headset will deliver surround sound from all directions, including above and below you, for more immersive experiences. The new premium headset also features multi-position, hidden noise-cancelling microphones for clearer chat and is also compatible with PS VR and mobile devices using an included 3.5mm audio cable.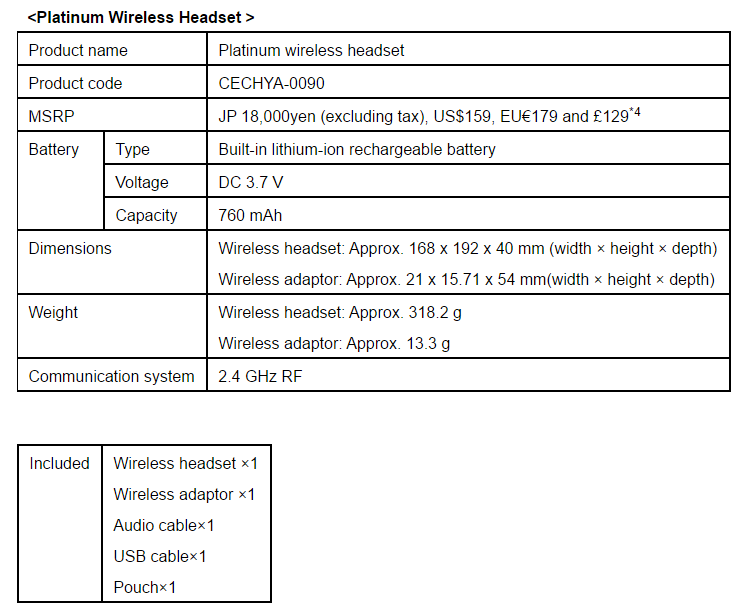 Official images of each new peripheral can be seen in the gallery below. If the PS4 Pro didn't catch your eye, do these new peripherals do the trick? While I don't use the Vertical Stand or find any need for it, the new one looks kind of neat, I admit.
New Official PS4 Peripherals Announced, Includes New DualShock 4, PS Camera and Headset
WATCH GALLERY