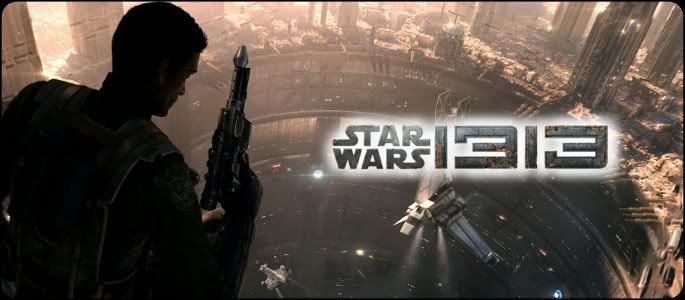 One of the best games of E3 wasn't even announced specifically for the PlayStation 3, yet we were so smitten by it, we're covering it anyway. Also, part of the reason, is that we suspect that the reason that any platform, let alone the PS3, wasn't announced is because the game may very well be the first next generation game we've seen thus far… and you can't announce a game for a platform that doesn't yet exist.
It's interesting to see how some groundbreaking games influence others, especially when it's influencing a game from a franchise that's over 30 years old, and one of the most famed of all-time. Star Wars 1313 was probably the best-looking game visually of E3. But outside of the stunning graphics, the game pulled a lot of inspiration from Nathan Drake—particularly the high-action setpieces, the climbing and platforming, and the cover-based gunplay.
I know it's hard to imagine, but Star Wars 1313 looked significantly better than Uncharted, The Last of Us, or any other console game for that matter. In fact, don't be surprised of Star Wars 1313 never arrives on the PS3 or Xbox 360 at all. The build I witnessed was running on next-gen Nvidia graphics-based PC hardware, likely the same chips, if not comparable chips, to what will be found in next generation consoles.
Simply put, there is no way in hell, even with as good as some of the upcoming PS3 games look, that the PS3 could replicate what LucasArts showed us on this PC hardware. That's not terrible news, because I can't see Star Wars 1313, with action that appears to be built for consoles, not arriving on a number of home consoles—just not this generation of consoles.
It's evident in the facial motion capture, produced by the talent that created The Hulk in the recent blockbuster movie, The Avengers. It's instantly apparent in the fire, the explosions, the smoke, the spark and particle effects. Nothing on the PS3 comes close. Again, that's okay. Because I left my appointment for Star Wars 1313 confident that I just saw the very first PS4 game… before a PS4 was ever announced.
With a vague 2013 release date, no consoles announced, and amazing ambition, don't be surprised if this arrives around the same time as the PS4 launch. Or, the game will have to be down-ported to the PS3 to get it to run. The end result will be a great-looking game, but would fall short of its potential if not held for more powerful hardware. It's time. Bring on the PS4.