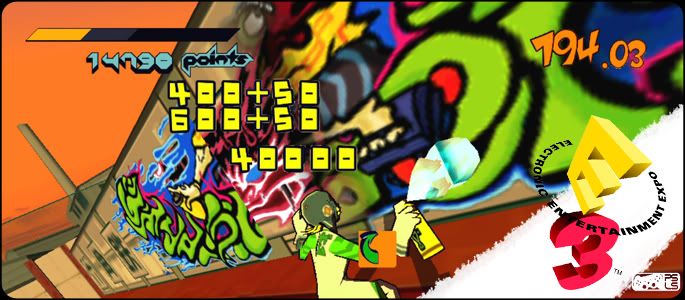 Sega's Jet Set Radio — known by North American audiences as Jet Grind Radio — was a classic upon its original release on the Dreamcast. A unique title that put players into the shoes of a group of skating graffiti taggers in a futuristic Japan, Jet Set Radio's unorthodox gameplay has resonated with gamers, leaving memories that have yet to fade. When Sega began making some of their older games available as digital downloads, JSR was right at the top of the fan request list. However, bringing JSR over to modern day platforms is no easy task, as it's a game from the previous generation with such an audience that revered its style so much that if anything significant was tampered with, they'd likely turn away from it. Good news for fans and Sega alike: Jet Set Radio's HD re-release on PSN will not have that problem.
Jet Set Radio looks and feels exactly like the original, except improved. The first improvement, noticeable right away, is to the visuals. Sega's upscaled visuals do tremendous justice to the game's cel-shaded graphics and they look incredibly sharp on PlayStation Vita's OLED screen. The original Dreamcast title looks a little blurry by today's HD standards, but Sega clearly put plenty of time and effort into making sure that wouldn't be the case for the re-release. Colors, textures, and environments all look more crisp than they did in the original release, which just makes the game pop right from a glance at the screen.
Controls have seen augmentation, too. Any Jet Set Radio fan could tell his or her fellow gamer about the game's camera and how difficult it was at times to get it in the exact right spot. Jet Set Radio's Vita release corrects this by giving the player control of the camera via the right analog stick and it makes a significant difference in terms of having a smoother gameplay experience. Jet Set Radio Vita drastically eliminates the amount of time players will spend fiddling with — or worrying about — the camera, which is a more than welcome improvement. The left analog stick on the Vita also feels much more responsive for graffiti tagging than the Dreamcast controller's analog stick did. Vita's left analog stick moves quickly and accurately, even when factoring in the game's requests for multiple sets of rotations for more difficult graffiti tagging spots.
Another improvement made to the game is load times. The Dreamcast original, while always worth the wait, had a tendency to have some load times that felt lengthy. The Vita version appeared to load levels very quickly, perhaps roughly a fraction of the time that JSR had taken before, which makes the wait next to a non-issue. Not having to worry about the length of load times is another huge plus for this Sega PSN HD re-release.
Jet Set Radio's upcoming arrival on the PlayStation Network appears to be what every gamer who's played the original could've hoped for: an enhanced version of the game that gets rid of the game's few weaknesses and replaces them with strengths. Jet Set Radio fans are very likely to be pleased with this very faithful, upgraded edition of the popular Dreamcast game and should look forward to tagging cars and running from the cops again sometime this summer.